Kesini 40 gm Ayurvedic Herbal Hair Wash Powder (Shampoo + Conditioner)
Nourishing care for better hair health!
A carefully crafted Ayurvedic herbal powder for the precious locks! AVP Kesini is a 2-in-1 hair cleanser and conditioner made from natural herbs, designed to provide ultimate nourishment and rejuvenation to your hair and scalp.
Key Benefits
Aids gentle cleansing and conditioning of hair
Helps nourish the hair from roots to tip
Fortified with natural ingredients
Assists in preventing hair fall and breakage
Free from harmful chemicals
Hair plays an important role in our physical appearance and self-perception. Present lifestyle and harmful environmental conditions pose a serious threat to hair health, resulting in premature greying, hair fall and other side effects. Ancient Ayurveda literature has documented several beneficial herbs that incorporate health and nourishment to the scalp and hair.
Kesini is a research based new-age formulation for supporting hair health, from the house of The Arya Vaidya Pharmacy (Coimbatore) Limited. A chemical-free herb-based product in powder form, Kesini gently cleanses the scalp and helps condition the hair. A perfect combination of authentically sourced ingredients, it helps remove dirt and simultaneously nourishes the luscious locks.
Inspired from our grandmothers' secret recipes for hair growth, Kesini boasts of Chaturanga (Lantana camara), Shikakai, Besan and green gram as the main ingredients. They have been used for centuries as natural hair cleansers. Herbs like Rose and Usira are traditionally known for providing a smooth texture to the hair with their natural oil content.
Kesini assists in removing excess oil from the scalp, helps lock the moisture content and leaves the air shiny without causing dryness. Regular use of Kesini helps strengthen the hair roots and aids prevention of excessive hair fall.
of Kesini powder with water to prepare a paste.
on wet scalp and
leave for 1-2 minutes. Rinse thoroughly.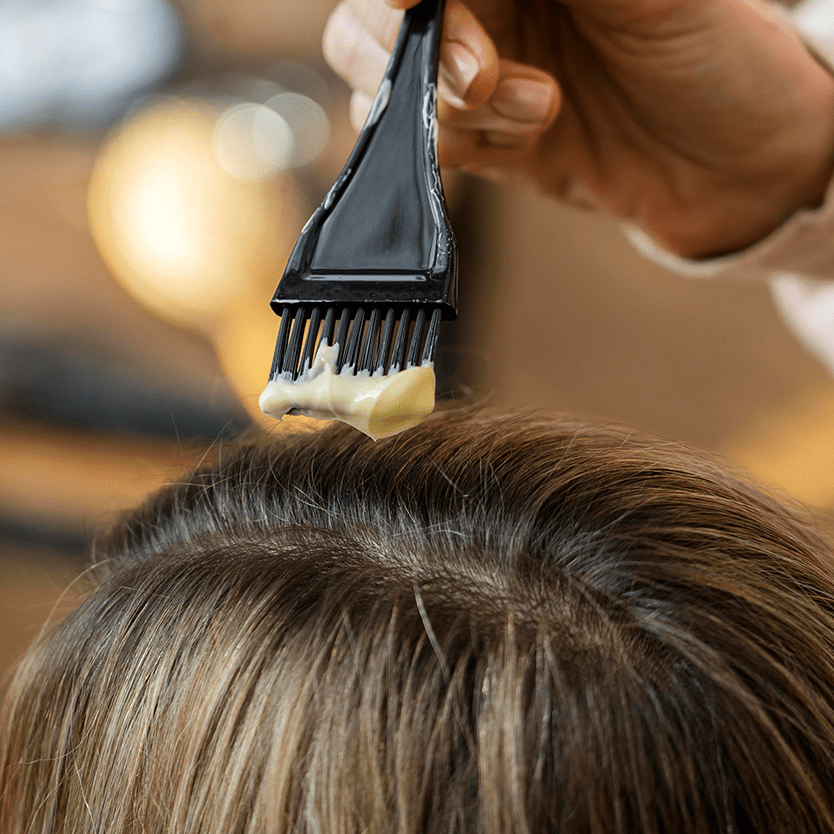 Not needed. You can buy it online.
However, it is advisable to consume the same under the guidance of a trained Ayurvedic physician.
---
What does it contain? + Net Qty
40 gm Kesini combines the power of authentically sourced natural ingredients such as Green gram powder, Besan, Saptala etc. that promote the health of lustrous, vibrant hair, naturally.
---
the exquisite combination offers comprehensive hair care benefits such as proper hydration and nourishment to the scalp, leaving healthy and conditioned hair for long.
---
Open wounds
Scalp psoriasis
Post brain surgery
Please Note: In all the above conditions, consult  an Ayurvedic Practitioner for expert opinion before using the product.
1. Can I use oil with Kesini powder instead of water?
Kesini powder from AVP contains herbs like Usira, Rose etc. which have natural oils in them. Mixing it further with oil can make the formulation oily and leave a greasy scalp even after washing. Hence, it is recommended to make it into a paste before application by mixing with an adequate quantity of water.
2. Does Kesini contain additives for fragrance?
No. Kesini is an all-natural Ayurvedic product made from herbal ingredients. No harmful chemicals and additives are included during manufacturing. Additionally, the product contains herbs like Rose and Ushira which naturally have pleasant aroma
3. Is Kesini suitable for children and adults alike?
At AVP, we recognise and acknowledge people of all ages and it reflects in our product manufacturing as well. Kesini is devoid of any harmful chemicals, making it suitable for the delicate hair of young ones. It can be used for children above 5 years of age and adults, alike.
4. Is Kesini beneficial in removing dandruff?
Dandruff targets unclean and greasy scalps more and can create much discomfort. Kesini is enriched with Shikakai, a renowned herb that helps remove dandruff. Regular use of Kesini as a part of hair care routine helps prevent dirty scalp and aids in preventing the occurrence of dandruff.
5. Can Kesini be used for any hair types?
Yes. Kesini powder is a perfect blend of natural ingredients that support optimum hair health. It helps restore the natural texture of hair without damaging the hair follicles.
6. Can I use Kesini if I have scalp Psoriasis or other scalp conditions?
Scalp Psoriasis is a condition that requires expert care and treatment. Specific products need to be used in such cases. Even though Kesini does not contain any irritants, it is recommended to take expert opinion from an Ayurvedic Practitioner before using the product.
7. I have a few more questions. Can I get an expert's help?
At AVP, we have qualified Ayurveda Physicians to provide expert opinion on all your health concerns. Please click here to consult a registered Ayurveda Practitioner, now.