IQ Shakti 250 gm Proprietary Ayurvedic Lehyam for Kids
Nurture healthy brains, effectively!
A proprietary Ayurvedic supplement to support the enthusiastic little minds! IQ Shakthi from AVP with its unique blend of natural ingredients, nurtures healthy brain functions and promotes cognitive performance in kids.
Key Benefits
Helps optimise mental abilities
Supports memory and concentration
Aids healthy cognitive functions
Helps improve kids' energy levels
Promotes natural immunity
Brain development is a remarkable process that starts around 2 weeks after conception and can last till early adulthood. This means children are born ready to learn and experience new skills over the years. IQ Shakti from AVP (Coimbatore) Ltd. is enriched with essential herbs to supplement the developing young brains, the vital support it needs!
A nourishing blend of Ayurvedic herbs like Vacha, Ashwagandha, Giloy and Indian gooseberry, IQ Shakthi contains ingredients renowned for their Medhya (brain stimulating) properties in adequate proportion. This helps maintain optimum cognitive functions and supports the learning process and memory. Apart from finest herbs, the formulation contains pure cow's ghee, of which its lipoidal nature facilitates easy penetration of blood-brain barrier.
Gut health plays an important role in maintaining overall immunity and development. IQ Shakthi contains herbs like Nutsedge, Arrowroot powder and Trikatu which boosts healthy digestion, thereby promoting strength, stamina, natural immunity and energy levels in children. The product is also thoughtfully crafted with the children's taste buds in mind, making it flavourful with pure honey and not processed sugar!
1 tsp once daily after food
1 tsp twice daily after food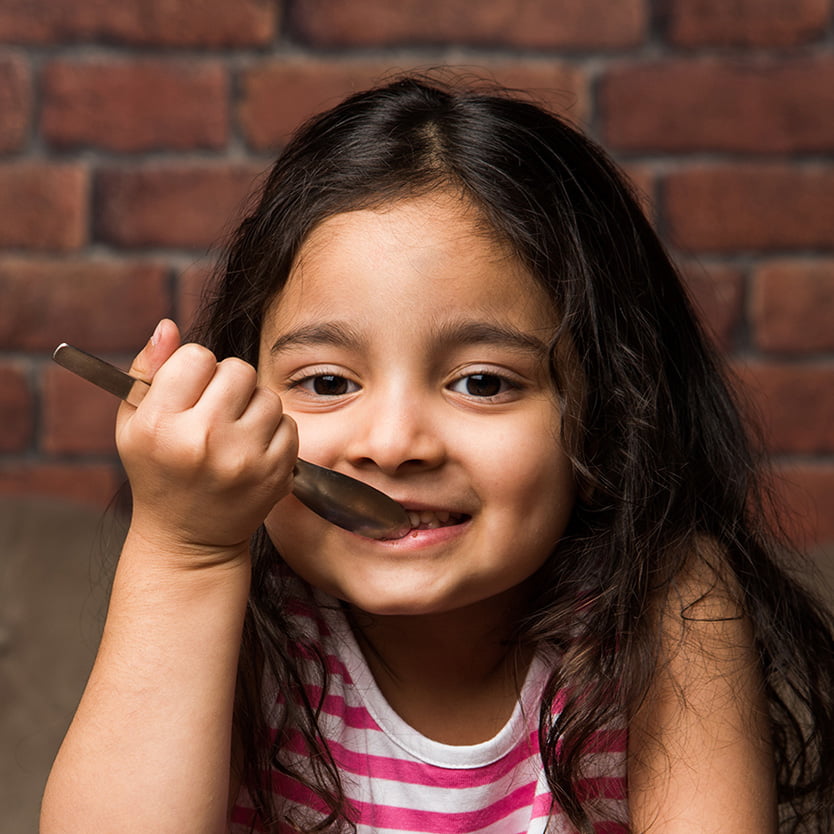 Not needed. You can buy it online.
However, it is advisable to consume the same under the guidance of a trained Ayurvedic physician.
---
What does it contain? + Net Qty
250 gm IQ Shakthi contains herbs that are nourishing for the brain such as Vacha, Ashwagandha, Giloy, Indian Gooseberry as the key ingredients along with other herbs.
---
Nurtures brain functions and helps enhance cognitive abilities and natural immunity in children with the unique blend of herbal ingredients!
---
Please Note: In above condition, consult  an Ayurvedic Practitioner for expert opinion before consuming the product.
1. What is IQ Shakti?
IQ Shakthi Is a unique proprietary formulation from AVP, combining the incomparable benefits of two renowned classical products - Saraswatha Ghritha and Chyavanaprasam. IQ Shakthi contains the goodness of Medhya herbs in both these classical products and supports the natural immunity and intellect in growing children.
2. Is IQ Shakti a fermented Ayurvedic product?
No. Ayurvedic fermented products are called Arishtas and Asavas. IQ Shakthi is a formulation in lehya (herbal jam) form prepared in pure ghee and Goat's milk as the base. Cow's ghee also acts as a vehicle for the active ingredients to cross the blood-brain barrier, providing optimum benefits.
3. Can children consume IQ Shakti daily?
For best results, IQ Shakti is advised to be taken daily as per the usage suggested above. However it is better to consult an Ayurvedic practitioner if there are further concerns.
4. Are there any side effects of IQ Shakti?
IQ Shakthi contains only natural ingredients which are generally safe for the body. However, please avoid consumption if the child is allergic to any of the listed ingredients. Should you have any concern, kindly consult a registered Ayurvedic practitioner before using the product.
5. Can I give IQ Shakti to my child if he is under treatment for some other illness?
IQ Shakthi does not contain any harmful ingredients that counteract with other medicines or food consumed. However, it is highly recommended to consult an Ayurvedic Practitioner to discuss your concerns before using the product.
6. I have a few more questions. Can I get an expert's help?
At AVP, we have qualified Ayurveda Physicians to provide expert opinion on all your health concerns. Please click here to consult a registered Ayurveda Practitioner, now.